The Well-Dressed Programmer
Of all the sources that I used to construct The Computer Boys, none was as fun or useful as the industry journal Datamation.  Unlike the more academically oriented journals from the ACM, Datamation was unabashedly industry focused.  It also was much more intimate, honest, and above all, humorous.  Throughout the 1960s it included a series of parodies of pop-culture phenomenon.  Here is one of my favorites, The Well-Dressed Programmer: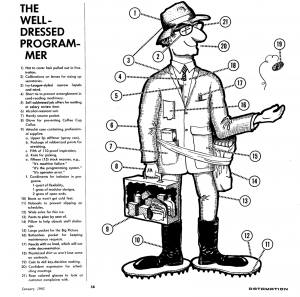 Click the image for a much larger version.